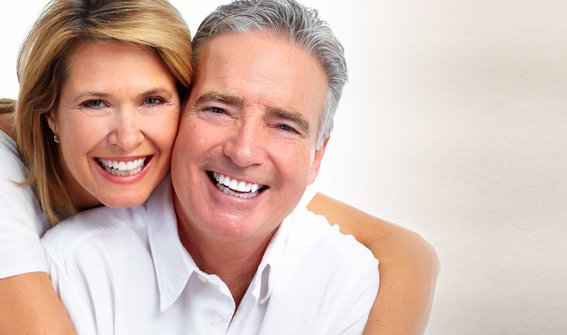 Partial and Complete Dentures
Partial and complete dentures act as replacements for missing teeth. They are custom made and can be taken in and out of the mouth. Today, dentures are made to look very natural and while they may take some time to adjust to, comfort has never been better.
What is the difference between a partial and a complete denture?
A partial denture is an appliance that is used when teeth are still present in the mouth. They replace teeth are missing and consist acrylic or metal material. They stay in place by using arms or clasps that attach to neighboring teeth and sometimes teeth are crowned to act as anchors for the denture.
Complete dentures are used when no teeth are present. They fill in all of your missing teeth with fake teeth and are usually made out of acrylic. If you have loose dentures or are prone to dentures, sometimes dental implants can be used to add comfort and improve retention of the denture.
What are the benefits?
Fills in missing teeth
improved chewing function
improves facial appearance
improves speaking
prevent unwanted tooth movement/shifting into missing/empty spaces
improved smile
Adjustments and Repairs
Dentures may need to be adjusted occasionally. If your denture does not fit or is broken, please call us immediately to schedule an appointment.
Cleaning your Partial or Denture
Your dentures should be treated like your natural teeth. They should be brushed daily to remove any unwanted plaque. Our team will discuss how to clean and take care of your dentures upon the day of denture delivery.